---
COMMISSIONS
Status: OPEN
Before ordering something please make sure that you have read my T.O.S!
---
In fact, I like realism, but I don't draw detailed arts often because I'm too lazy haha
But I will be happy to make something like this for you!

---
Guess, that's my usual style. Non-strict proportions, cartoonishness and simplicity.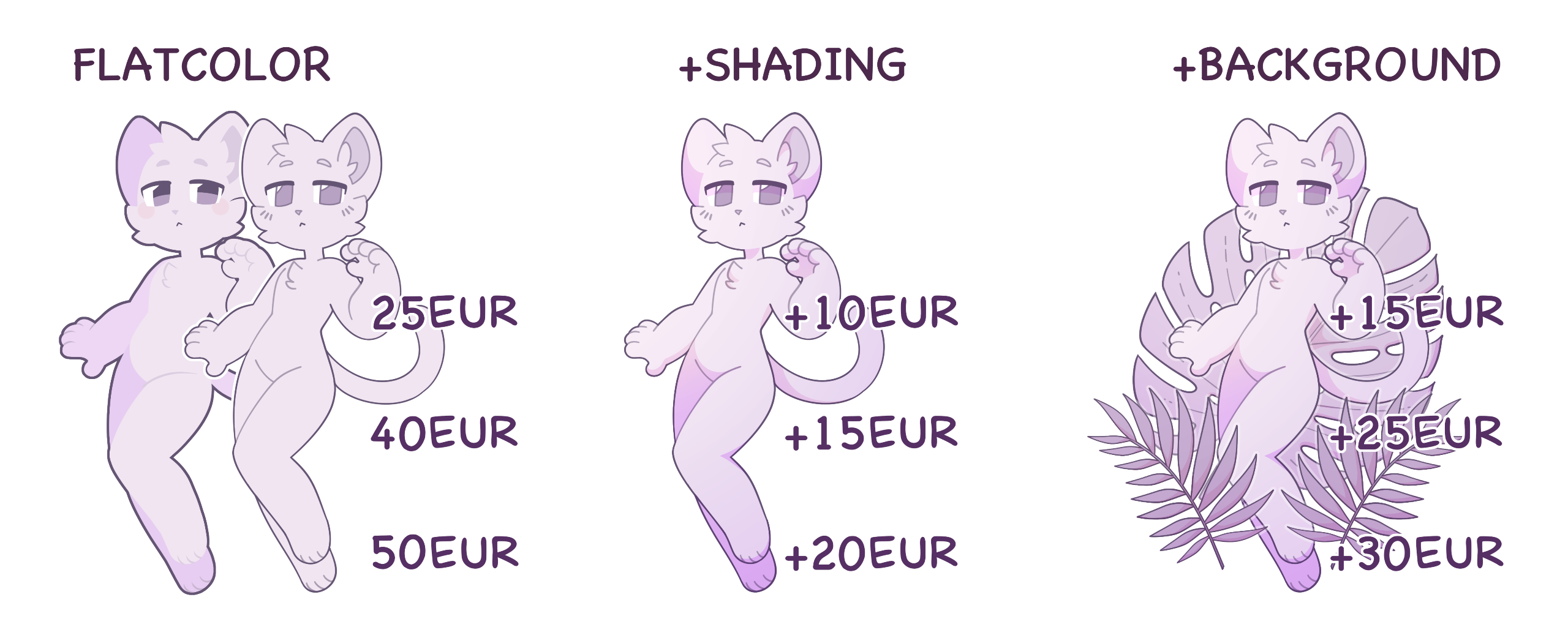 ---
Mmm... tasty!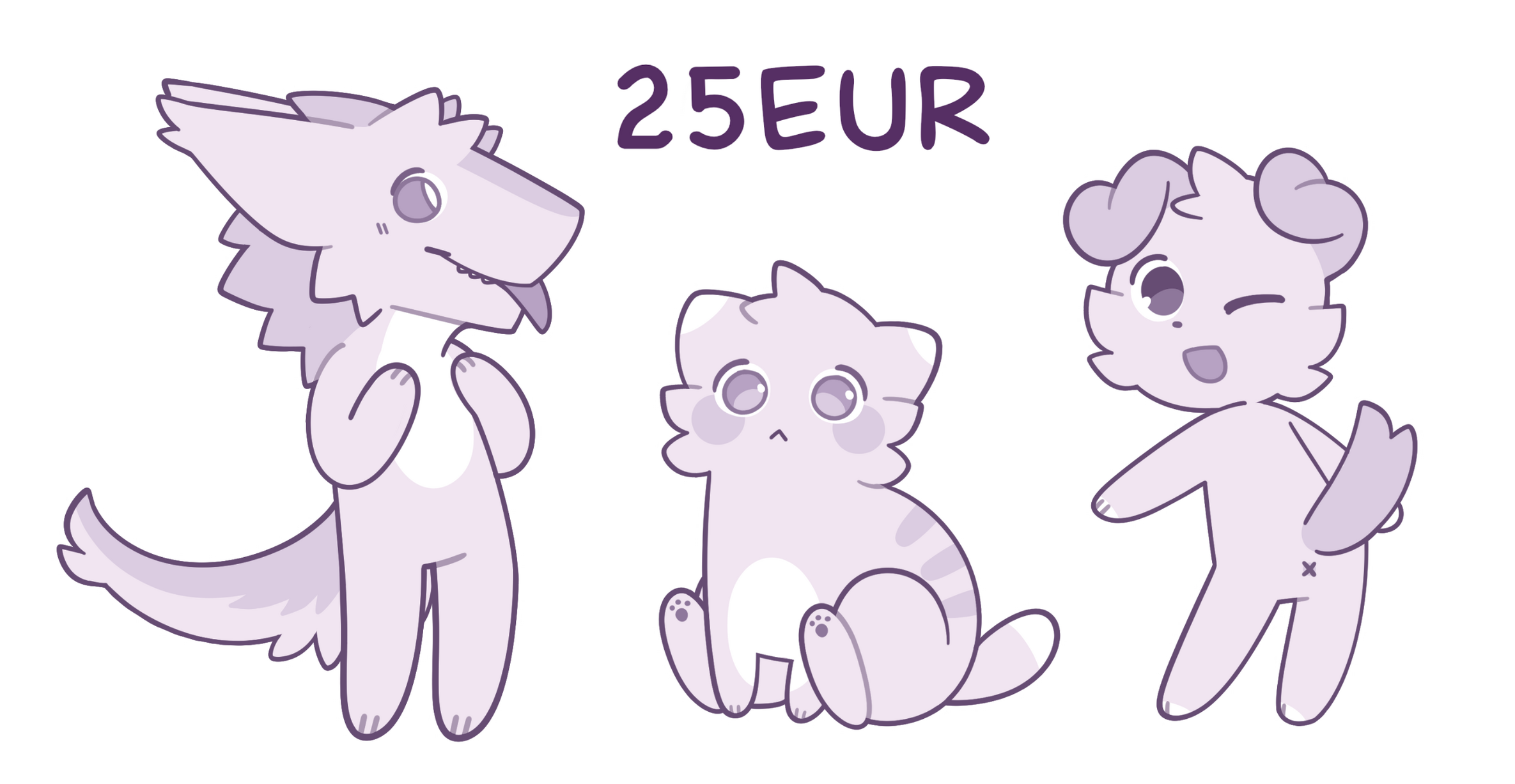 ---
| 50*50 | 100*100 | animation |
| --- | --- | --- |
| 15EUR | 20EUR | +5EUR |
---
Price depends on the filling of reference

Details and accessories: 8~10EUR for each
Everything else (footnotes for info, design of ref, etc) for free
---
LOOT BOX
Loot Boxes are essentially PWYW (Pay What You Want), giving me free reign.
There is no set style for this and may look completely different from any of the samples.
The number of pieces may vary, but I will put in the effort worth your payment.
Price 15~100EUR
---
This commission style is experimental; if you are picky, this style is not for you.
---
You can contact with me in any way you prefer
---
or fill this form for communication via email
---
I don't bite, don't blame, don't judge and pretty tolerant to everything, don't hesitate to note or ask me if you aren't sure in something :3
---
Hello and thank you so much for being interested in me and my work!
My name is Shiones, I am just an little artist who lives with GF and pack of pets
Omitting the details I will say that at the moment my main goal for now is to get own home
I am well aware that this case may drag on for a long time, maybe even for years. But I don't want to lose my motivation and that's why I'm writing about it here
So here I have collected services that you can use to support me!
---
Here you can see many of my paintings that have not been published anywhere except Subscribestar. You'll see to process of creating my art (for now it's just step-by-step screens, but I plan to make speedpaints soon), get early access to my works and discounts for CCMs
Both services have the same content. For what? Idk
---
Here you can buy my bases for creating adoptables and making ref sheets. The purchase on this platform is small, but still so important support for me
---
Ko-fi and FA shinies.
These are donation services. I really appreciate everything that you do for me and for a donation of $10 and more, you can get art from me (do not forget to write me in any of my social networks, attaching a donation screenshot and your char)
Also, if you suddenly have the desire and opportunity to give me 300k dollars to make a transfer to my card (I live in Russia and the commission can be a problem, so the services are preferable), you can write to me and I will give you the necessary details for transferring :D

Each donation and a 1/3 part of the commission payment received from you, I send to a special savings account in the bank.
---
Drawing is my main source of income and I would like to have the strength to draw and please you with my art as much as possible. Your support can really help me to be confident in yhe future.

Thank you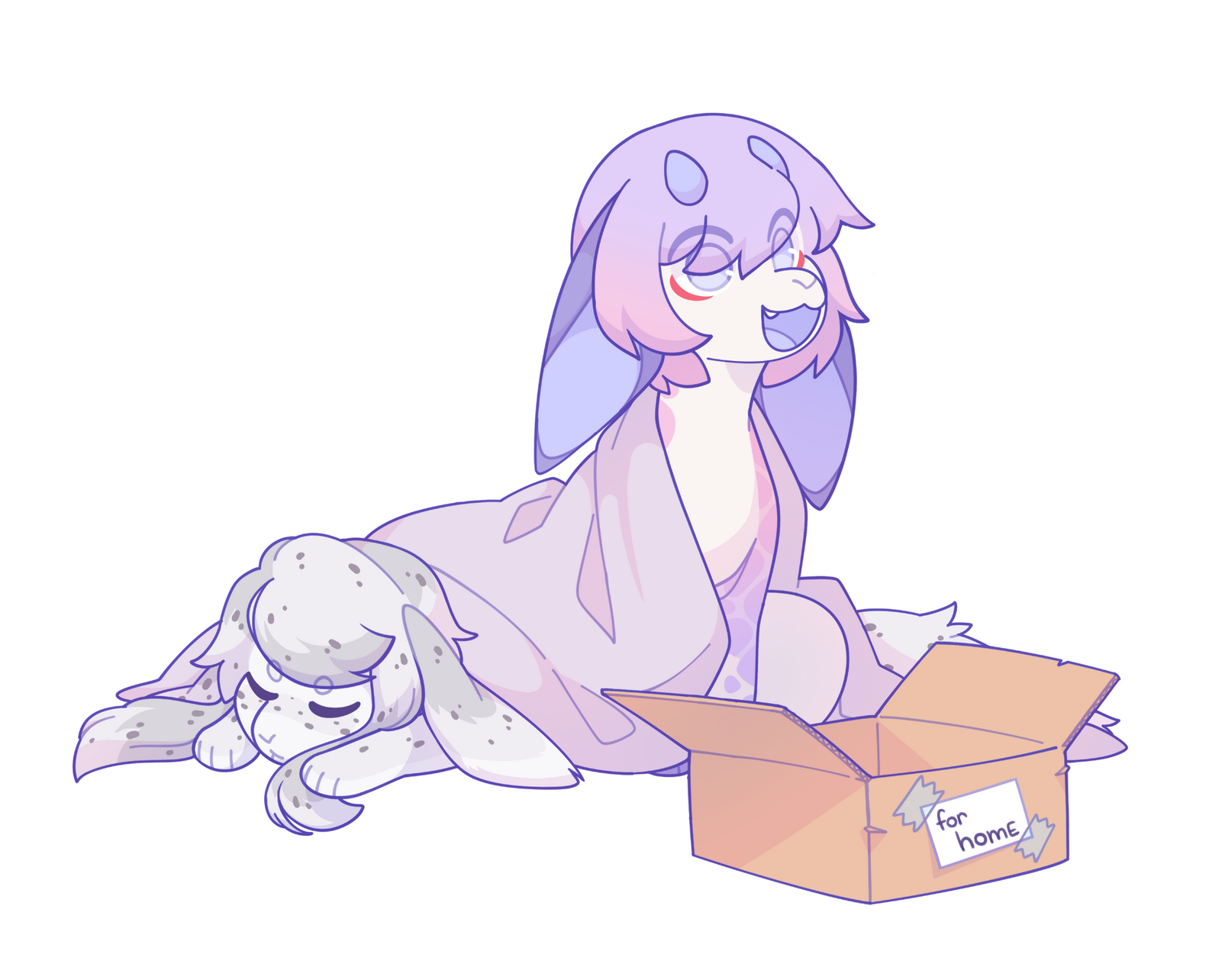 I don't need the necessary help, the support of me is solely your own choice.
TERMS AND CONDITIONS
By purchasing any type of CCMs you accept that you have read my Terms of Service and agree with them.
---
COMMISSIONS AND YCHS
MAIN INFO
There will be NO REFUNDS, unless 30 days has passed and I haven't started with your commission.If the sketch i made for your order doesn't suit you, i will sell it as an YCH. However, you can buy it for extra cost (for the price of a sketch from my price list), so it will become yours and i won't sell it for anyone else. Works like ordering another commission.I won't do big changes to your commission if I have already started refining the lineart for your commission. I can't change the artwork after it was finished (minor changes are acceptable.)If you want your commission to remain private and you don't want me to upload it publically, then you will have to tell me before I even tell you the price, because that carries an extra charge depending on the type of commission (Failure to let me know will result in me posting it anyways under the assumption that you want it public, for all my works are public until stated otherwise).I don't send .psd or other formats with layer information files of your commission.
---
USAGE
You can use any purchased commission for non profit purposes only. Feel free to upload the commission to your gallery, use it as an avatar, print posters for personal use, etc.I can use all commissions (and WIPs) for Subscribestar, ad banners and other platforms.
---
COMMISSION PROCESS
1. Message me with your character refsheet and all the details i need to know, like what type of commission you want and the idea (if you have it, if not - now worries, i'm always open for "artistic freedom"). After details have been exchanged, I will give you my PayPal adress so you can send me the payment.
2. After you have sent me a payment, I will put you on my To-Do list and start your commission asap. I usually don't take more than 1 month to finish your commission.
3. For your CMM I can do from one to three sketches. I will show these to you, so you can choose one or ask me to change smth.
4. Once you approve the sketch, I will begin linework. Then i will color them and send you a WIP screenshot so you can check everything again.
5. Once you approve previous stage, i'll start shading process (if the commission tier includes it).
6. I will finish your commission and send you a link for a high-res download.
---
ADOPTABLES
After you have purchased an adopt, I will transfer them to you on the Toyhou.se. If you don't have TH account, I can give you invite code or delete that adopt's page from site.
DO NOT EDIT THE ORIGINAL ARTWORK. If you do, you will be added to my block list and will be unable to purchase any more adoptables from me! (I can make minor changes at your request for free (or major changes for a fee+))
Gender and species of adopt is completely up to the purchaser (Unless the adoptable was a closed species)
I don't mind redesigns! I wouldn't like drastic changes though, I would rather the design resemble what I made. (also feel free to show me your changes i'd love to see them)
Adoptables may be resold, but for no more than what you yourself paid for them (If they were traded to you, DO NOT SELL THEM! Trade only, etc). If you're reselling an adopt that has additional pieces you can resell for a price higher than what you paid, however make sure you get permission from other artists to resell their work!
Downpayments (30% of price) on adoptables are nonrefundable and are considered a 'holding fee'. However anything over the down payment that was paid can be refunded if payments can no longer be made.
---
PAYMENT
Tips are ALWAYS welcome, and I will 100% give your commission a little extra love if you send a tip during check out as a thank you!I prefer full pre-payment, but I accept payment plans for trusted clients if they are necessary. Failure to make payments will result in a loss of future payment plans or a block. The downpayment is 30% of total price.After I have accepted your offer and given you my paypal you'll have 48 hours to send the money or else I'd have to re-open the selling (or in an auctions case select the next highest bid)All sales are final, no refunds may be requested or placed for adoptables or commissions of any kind once work has been completed OR files have been delivered.
ABOUT
I'm pretty closed person, so please do not ask how I'm doing etc if you just boring and have nothing to do.
Tolerant of everything except for abusive traumatic and aggressive things and justification for it.
what's the purpose of what i'm doing?
My own house. All my efforts are now focused on this and I'll be so grateful for any of your support in achieving my goal.